The ride from Seydisfjordur to the first night's campsite was incredible, and as soon as I had left Seydisfjordur the weather turned to sunshine. The riding was mostly road riding with a short trail here and there. But wow the scenery was outrageous, just epic, and the massive landscape seemed to change around every corner (something that would keep happening for the entire trip).
Shortly after arriving at the first night's campsite, two of the Icelandic lad's mates arrived. Who already had a route plan for the following day, so when invited to join local lads on one of their routes, it's a definite yes from me. The plan was to use the campsite as a base to leave camp set up and unload the bikes, getting to ride the bike unloaded was very nice.
With the evening still going and daylight still in play until 23:30 (when it only really turns to dusk anyway, sun rise is at 3am), I thought I'd better set to electrical debugging while there is still plenty of time.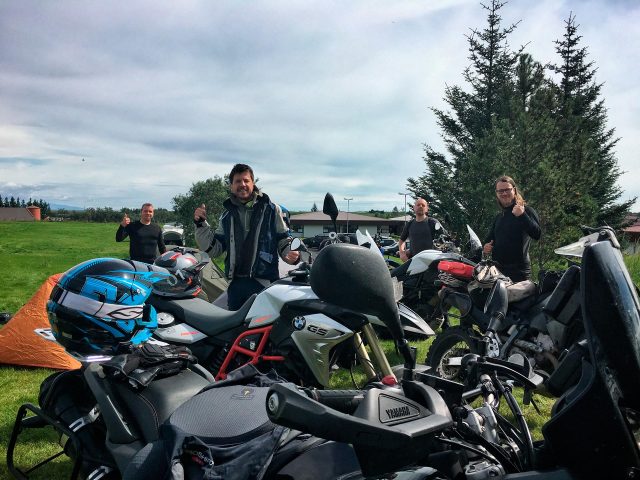 Introducing Icelandic Trails
The following day once everything with the bike was sorted we set off to ride the 208 and 210 into the interior highlands. Six of us were riding in total, and after several river crossings on the 208, the Icelanic man with the plan decided we would turn off onto a smaller trail (F235). This trail criss crossed the highlands up to Tungnaarfjoll at 1028m of altitude and led off into some seriously fantastic terrain. This guy has some superb skills and great route finding, I think it should be his job.
The day's route had us riding through some of the most spectacular terrain. Loose sand, river crossings, loose rocks, hill climbs, fast gravel sections, fast dirt sections, everything! Some of the views I can't really put into words properly. Everything just seems so un-spoilt, un-touched, un-wrecked by us idiot humans. Almost like the terrain has been newly created and you're the first one to see it.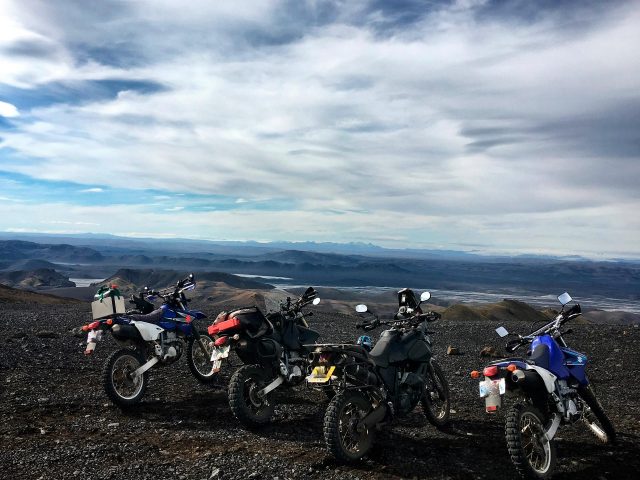 Days like this!
With Iceland's insane increase in tourism to around 1.8 million visitors expected this year, I sincerely hope Iceland remains an un-spoilt landscape. I think it will, as long as the difficulty level of travelling to these remote places within Iceland's interior is kept nice and high.
This day was one of the best day's riding so far (ever), shared with some wonderful people, what a truly amazing day! What better way to finish than with Beers and Burgers. "Better a meal with friends, than a feast with fools", or how ever that saying goes. Meals like this, after days like this, with people like this, are some of the best meals a person will ever eat.