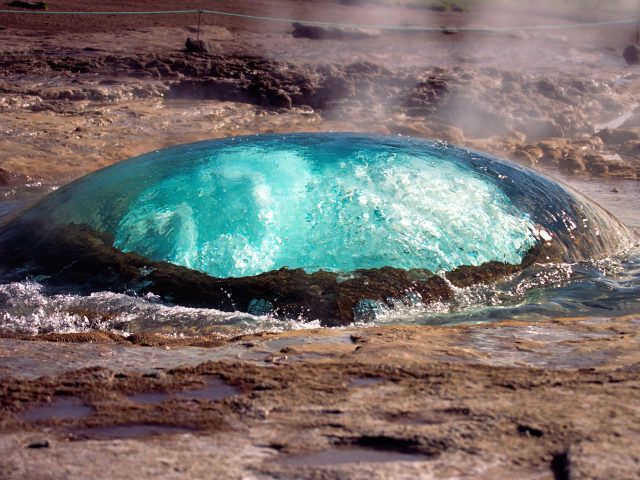 It's time to meet back up with the French lads because we're heading out on the same route, at the same time, from the same place, Thingvellir. Also there are two tourist spots to see on the way to start the route along F35. Which runs from south to north through Iceland's interior. It's set to be another good day.
Geezers at Geysir
Geysir is a geothermal field containing a number of active Geysers. The field is situated at the northern edge of the southern lowlands, at an altitude of 105-120m above sea level. Until recently, the area was called Hverasandar. These hot springs are located to the east of a mountain called Laugafell. Although the main geyser, or Geysir, has not spouted since 1916. Strokkur (the churn) is the most energetic geyser in Iceland. It spouts every few minutes, sometimes to a height of 40 m, yet generally less than 10-20 m.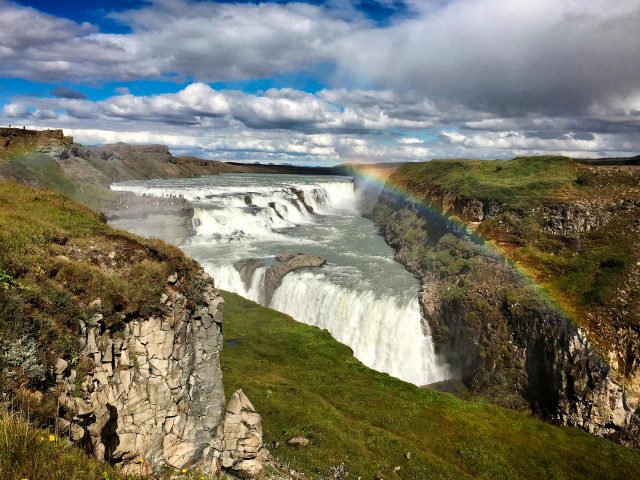 Gullfoss Waterfall
Gullfoss (Golden Waterfall) is an iconic and powerful waterfall. Which is located in South Iceland on the Hvítá (White) river which is fed by Iceland´s second biggest glacier, Langjökull. The water plummets down 32 meters in two stages into a rugged canyon which walls up to 70 meters in height. Whenever the sun is out a rainbow normally get's cast over the falls.
Trail Riding route F35
Riding the 35 was probably the easiest trail riding done so far, quite straight forward riding on mostly hard packed dirt roads. However, a few short sections have some rock or sand thrown in. After stopping for a coffee at a hut along the way, we got talking to an Icelander who explained the culture behind "hotpots". Seems like Icelandic people enjoy being close to hot pools for a routine soak. Apparently there was a campsite half way along our route with hot pools. These natural hot springs are all over the place, and most of the towns have swimming pools with natural hot pools. Also we were introduced to hotpoticeland.com a map of numerous hot pools in Iceland (of course the best ones probably remain local secrets not to be shared with average tourists).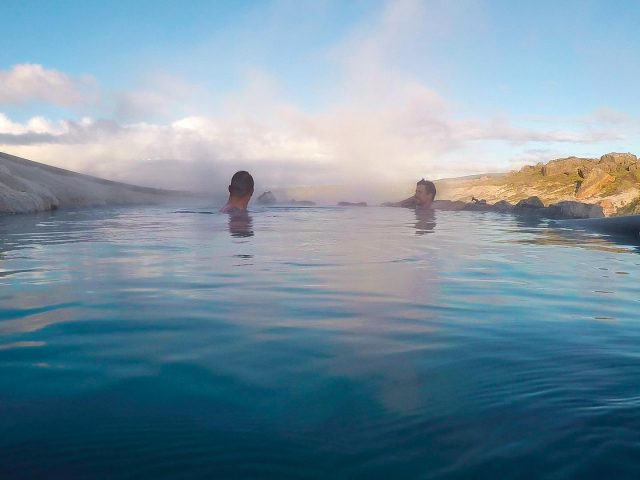 This nights campsite was a spectacular place with an amazing view of the Langjokull glacier. Most importantly it had a hot spring which was like a mini version of the blue lagoon in Rekyavik. Consequently I'm starting to like the Icelandic take on camping, from now on I'll be looking for more locations like this. Far off the beaten path, with natural wonders all around, and natural hot pools.