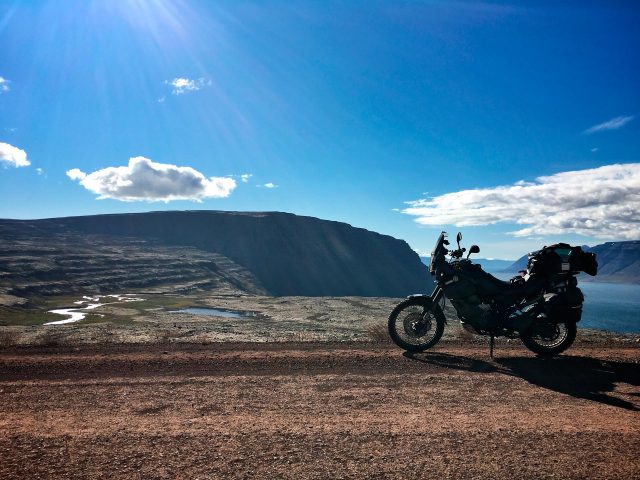 After munching through more miles on tarmac, which I have to say the western fjords are definitely worth riding. The tarmac that goes with them is twisty and very enjoyable riding. After which it was now time to get back on with some trail riding. I had to plan some longer days and make use of the long daylight hours in order to fit everything in.
Leaving Husafell
I packed up my camp at Husafell while surrounded by mountains and rivers, which was another very beautiful camp spot with hot pots. I then rode F550 south, then F338 east, taking in a convenient re-fuel after 150Km of trails at Geysir. The trails changing all the time with an amazing mix of terrain and scenery to go with it. One moment you're bouncing around lava fields staring at the crazy cone shapes of some of the volcanoes. The next you're reminded to concentrate by sections of soft sand. Only to take another corner and stare open mouthed again at the foot of the enormous Langjokull glacier.
Strangely enough, while I was standing in the black sand next to my bike taking photos of the Langjokull glacier. A Touratech truck comes hooning along and pulls up next to me. Kindly they were just checking I was ok, I explained that I was just taking a few pictures, they offered me some chilli and continued on their way. Cheers Touratech!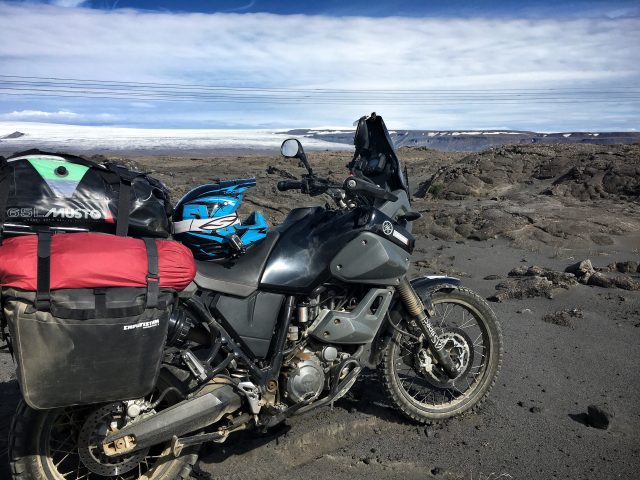 Re-Fuelling at Geysir again
After re-fuelling it was onto take all of the F35 north again. Today involved 280Km of total trail riding in one day. Which was just superb, such awesome riding all day long. That one piece of advice, "stay off the ring road dude" was so true. It's possible to link up such awesome trails to get wherever you want to go. Then you'll be spoilt rotten with quality trail riding, unspoilt views, and magnificent terrain all to yourself.
This night's camp was a welcome rest, although I was not nearly as wiped out as I thought. Camp was set up at a river side at a place called Steinsstadabyggo (yes, there were hot pots nearby again). By now I feel like I've been spoiled by so many beautiful camp spots.