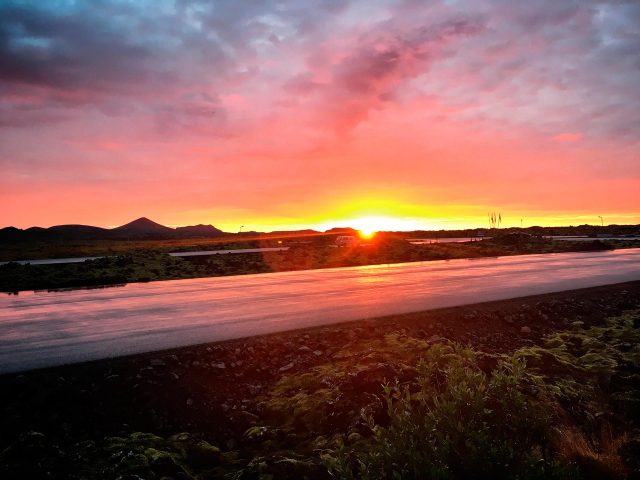 In my mind I was prepared to make the last day a "road riding" day. However, there are just too many cheeky hidden trails that connect everywhere, and they're just too good to pass up. So actually this was a day where asphalt was punctuated by some pretty good trail riding, again.
Surprises
One of the last trails of the day did have some surprises in store. An easy going trail had sudden sections that had been washed away at some point. Leaving surprise trenches a meter deep containing boulders that scar across your direction of travel. From a distance they just look like a small bump to speed across. However there is just enough distance left to slam on the anchors, when you realise the speed you're carrying is not compatible with the suddenly deepening trench in front of you. Quite funny when responded to appropriately.
The day's route took me through Ásbyrgi canyon, Detifoss waterfall, Viti crater, more geysers, Lake Myvatn, and back to seydisfjordur.

Ásbyrgi canyon
Ásbyrgi canyon lies in the north of Iceland, the horseshoe-shaped depression is part of the Vatnajökull National Park. The canyon is about 3.5 km in length and 1 km across. For more than half of its length, the canyon is divided through the middle by a distinctive rock island 25 meters high called Eyjan ("the Island"). Geologists state the formation of the canyon is a result of massive glacial flooding, which occurred when a volcano erupted underneath the Vatnajökull ice cap, thousands of years ago. The water didn't carve the rocks into the horseshoe shape, it just washed the soil away that filled in the glacial erosion that shaped the rock.
Víti Crater
Víti is a huge explosion crater, about 300 metres in diameter. The crater was formed during a massive volcanic eruption at the start of the Mývatn Fires in 1724. The eruption continued more or less non-stop for 5 years and Víti's bubbling cauldron of mud boiled for more than a century after that. Víti is situated near Krafla which is a huge geothermal area, which is also home to a very large geothermal power plant.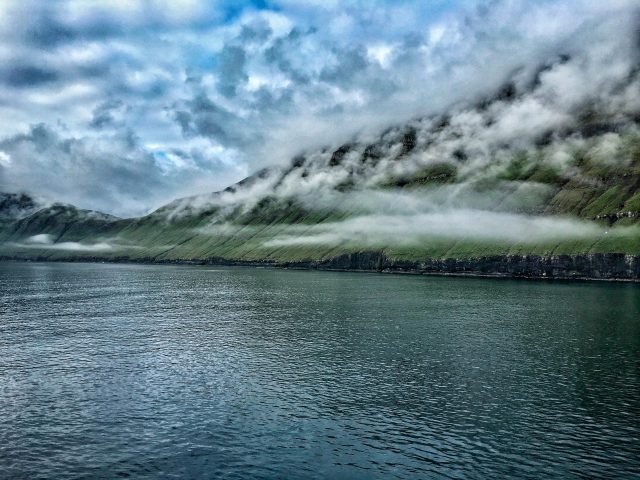 Back to Seydisfjordur
Just like during my arrival to Iceland, as soon as I return to the port of Seydisfjordur descending into the valley. The weather changes back into the cold, windy, rainy fjord that I started in. You can almost see these odd micro climates arriving right in front of your face. Arriving at the port of Seydisfjordur I set up camp right next to the harbour. Just like a hundred other adventure seeking folk.
It feels quite nice being around such a huge community of like minded people, sharing conversations of the experiences we all just had in this place. Rarely does a community like this come together in such size, and having just experienced a place and journey at the same time. There is a slightly downcast feeling that this part of the journey has come to a close. But there is also a happy one that this place has made such an impression on me that I will definitely return for some more riding. What a place you are Iceland!!
So anyway I thought I'd enjoy my last moments by ordering a huge rack of ribs, an arctic pale ale, eating everything with my hands, and trying to feel as Viking as I can. (Ads you popped into my head at that moment, and turkey legs of course).
Shipping off
After a rainy morning packing down the tent and trying to keep as much of the water off as possible. I headed for a coffee next to the harbour in Seydisfjordur. Looking out of the window at the wind, rain, and huge mountains sticking out of the water. Playing on the radio in the cafe is Teardrops by Massive Attack. It feels appropriately melancholy and reflective to say goodbye to this place. Which is a nice reminder/motivation to continue discovering new things and places. So smile, there is still plenty more to come yet.
Duncan
There was one very important thing that also kept moving around in my head each day of this trip. That was the loss of Duncan on the 27th July 2016.
Duncan, some great climbing and ski mountaineering was proudly shared mate, and on some epic routes too! The plan was to meet up with you on my return to Chamonix, while you'd still be there. Share some stories of this journey, climb the Dent with you, catch up on recent moves, and hear about how the ring went down with April. You were a very skilled, and very humble bloke; qualities that many more people should aspire to. You will be greatly missed by many. Rest in peace mate.